San Diego Records Storage
The business records of every company are simultaneous of great value and pose a great threat. Solid record keeping helps companies make informed decisions. But, if files are mismanaged it can gravely hurt the organization. Whether documents are incorrect, stolen, or simply get lost in overwhelming stacks of paperwork, poor document management leads to problems down the road. However, records storage is an effective and efficient solution.
Keeping a tight records management procedure is not only good business, but the law requires your records to be properly stored so they can be retrieved in a timely manner when requested. Also, The number of government agencies and laws that apply grows by the day, and we can be your records solution.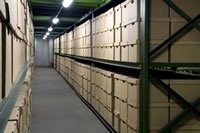 San Diego Document Scanning can help you scan your files, but we can also help store your records online in a digital format or in a secure off-site facility in a physical format.
Additionally, offsite storage is an affordable storage option for physical documents that will save you money. In addition, these facilities are secure and climate controlled to ensure your files are protected.
Benefits of Records Storage Services in San Diego
Reduce Storage Cost
Secure, Monitored Facility
Quick Retrieval and Delivery
Records Indexed by Document or Box
Scanning and Electronic Delivery
Climate Controlled Facility
We can help you better manage your documents. Whether you choose to go digital or store your files offsite, we can help you find the perfect solution for your needs.
Get Free Quotes on Records Storage Services throughout San Diego
To get free quotes on records storage services by San Diego Document Scanning give us a call at (619) 272-4276 or fill out the form on the left. Also, we focus on your records so you can focus on your business.